**Make This the DAY you stop dreaming and start doing!!**
MY DREAM-So much easier said than done, don't you think?? I have always wanted to be a travel agent, something I think would be so much fun and yet, I have done NOTHING!!!!! 45 years and NOTHING! Since we went to Jamaica and Sandles OH I wanted to specialize in that branch of travel agents. I guess where do I start? What do I have to do to become one, HELP!!!!!!!!!!!!
I need your help to find my way with this dream. I would greatly appreciate any and all advice with help to make this dream a reality!
A good, hard laugh!! An invigorating run. The perfect cup of coffee. Just a few of the many pleasures you could find enjoy any day. But when it is all over, does feeling food, however temporary, benefit us in the long run???
The answer is YES, it turns out those who experience more positive emotions cope with stress better, find more soultions to problems with more ease, and enjoy life and relationships better!!!
Positivity can produce SUCCESS and HAPPINESS!!
*Don't Overthink-So think less and feel more!
*Make Positive thoughts stick-It takes 20 seconds to register something positive, do your part to really absorb it, write it down and share it! This will keep you from obsessing over negatives!
*Assume the BEST-Thinking about what you want in life may get your positive emotions circulatting. "Instead of seeing that upcoming family gathering as a negative, think of it has having fun for yourself!!
*Ritualize Gratitude-Seeing the good in EVERY situation! Search reasons out to feel gratitude and experience them. Whenever you come to the end of something, "party, vacation, church," silently thank the place or the peopole for making in special. You'll make your endings happier and your "back to life" that much better!
I really think these are some great LIVING BETTER for Life tips for me and hopefully for you too
Power Food for the Day-TOMATO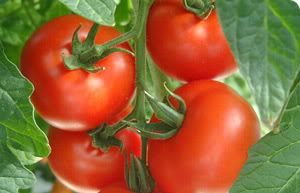 Tomatoes are a top source of lycopene. In a large, multicenter study, researchers found that women with high levels of the antioxidant had a 34% reduced risk of cardiovascular disease, compared with women with lower levels. Those who got plenty of lycopene were also more likely to have higher blood levels of other beneficial carotenoids such as lutein and beta-carotene.
Bible Verse For Today-Proverbs 15:13
"A happy heart makes the face cheerful, but heartache crushes the spirit."